Jupiter Family Photographer  |  Dani Carretero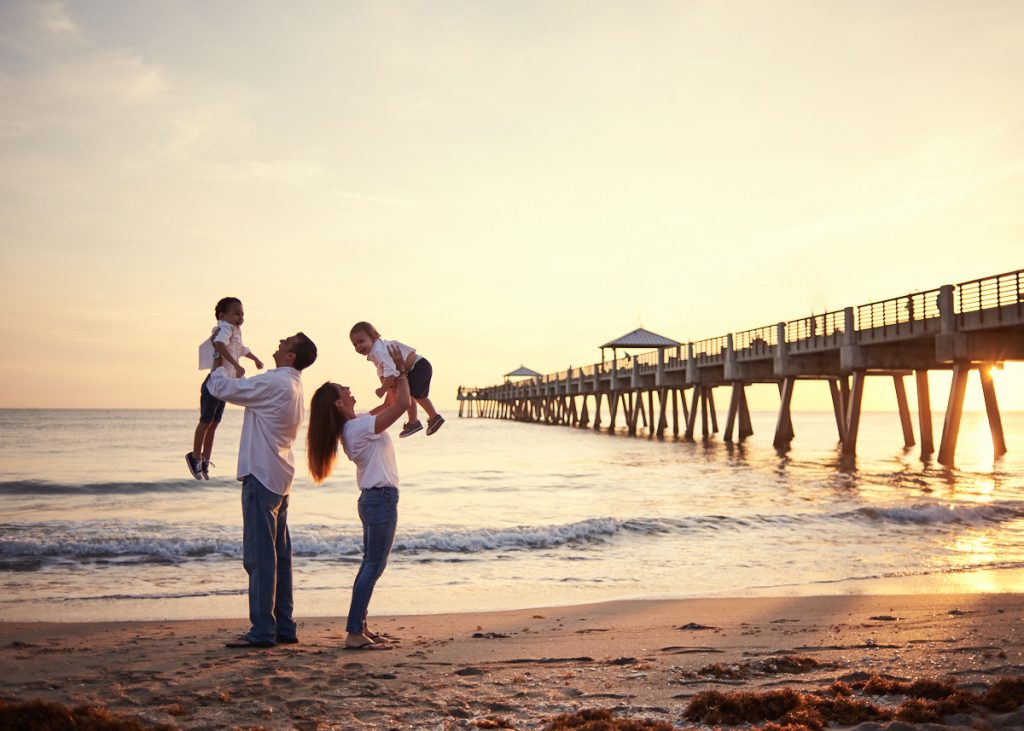 Family Photography in Jupiter is the best way to remember those happy moments in your life in this amazing South Florida city.
Family photography are made at any time of your life. To celebrate an anniversary, a birthday, Christmas, summer, holidays, any time is good for the family to gather and take a photo shoot to remember that moment in the future. They can be done individually or in several follow-up sessions.
Dani Carretero is a Jupiter Family Photographer, specializing in photography for families of all shapes and sizes, which includes couples, expecting parents, newborns, toddlers, kiddos, even bigger kiddos and, of course, any fur babies that schlep with the family.
How would you like to remember this beautiful moment in your family? Write to me through the Contact page and tell me, so we can discuss documenting some memories together. Do not forget to ask me about the follow-up sessions.
Family Portraits
$250
60 minutes
30 high-resolution digital pictures
+200 Pictures gallery to select from
One year private online gallery
Download and printing available
Get all the pictures shot for +$100
Family photoshoots hold a cherished place in the hearts of many, serving as snapshots frozen in time that capture the essence of love, togetherness, and shared experiences. These sessions allow families to create lasting memories that can be revisited and cherished for generations to come. Just as Jupiter, the largest planet in our solar system, holds a significant presence, so do family photoshoots in preserving the gravitational center of familial bonds.
The role of a Jupiter Family Photographer in these moments cannot be understated. Their expertise goes beyond merely capturing images; they have the ability to encapsulate the emotions, connections, and dynamics that define a family. With their guidance, families can relax and authentically express themselves, resulting in photographs that are not just posed portraits, but true reflections of their relationships.
A Jupiter Family Photographer has the unique capability to bring out the best in every family member, from the youngest to the oldest. Through their lens, the joy of children, the wisdom of parents, and the playfulness of grandparents can be encapsulated in a single frame. This skill is particularly valuable in today's fast-paced world where time seems to slip through our fingers like grains of sand, making it crucial to capture and treasure moments that might otherwise be lost.
These photoshoots offer more than just tangible images; they provide an avenue for families to reconnect, create shared experiences, and document the stages of life they journey through together. Just as Jupiter's gravitational pull keeps its moons in orbit, family photoshoots have the power to keep family members connected despite the challenges that life may throw their way. The photos become touchstones, reminding families of the love and unity they share, even during times of separation or change.
Nestled along the southeastern coastline of the Sunshine State, Jupiter, Florida, stands as a testament to the breathtaking beauty of nature. With its pristine beaches, lush landscapes, and vibrant wildlife, this charming town is a paradise for both residents and visitors alike.

Jupiter's allure lies in its stunning coastal vistas. The town's expansive coastline is adorned with powdery white sands that stretch as far as the eye can see. The gentle lapping of turquoise waves against the shore creates a soothing symphony, inviting all to bask in the tranquil ambiance. Whether it's a leisurely beach stroll, a relaxing sunbathing session, or an exhilarating swim in the clear waters, Jupiter's beaches cater to every beach lover's desires.

But the natural beauty of Jupiter extends far beyond its beaches. The town is adorned with lush vegetation and verdant parks, making it a haven for outdoor enthusiasts. The Riverbend Park, with its sprawling trails that wind through dense foliage and along the winding Loxahatchee River, offers a chance to immerse oneself in the untouched beauty of Florida's wilderness. Kayakers and canoeists paddle through the serene waterways, catching glimpses of vibrant birds and other wildlife that call the area home.

Jupiter is also known for its commitment to preserving its natural treasures. The Jupiter Inlet Lighthouse and Museum stands as a historic beacon, guiding ships safely to shore for over a century. Its striking red-brick architecture is juxtaposed against the brilliant blue sky, creating an iconic image that speaks to the town's maritime heritage.
In conclusion, family photoshoots, with the guiding hand of a skilled Jupiter Family Photographer, offer a precious opportunity to encapsulate the beauty of familial relationships. Just as Jupiter's immense presence influences the cosmos around it, family photoshoots influence the emotional landscapes of families, fostering love, unity, and lasting memories. So, whether it's a milestone celebration, a yearly tradition, or a spontaneous gathering, consider the significance of family photoshoots in keeping the spirit of togetherness alive.